Just wanted to share a few scrappy and "non" scrappy things with you today.  I'll start with a couple of layouts!!  Yeah!!
I'm currently hosting a *music* challenge over at
Scrap4Life
.  The challenge is to use the title or lyrics from a Christmas song on your layout.  I used the lyrics from "
Santa Claus is Coming to Town
" for this layout of Bianca.  These pictures were taken last year.  As you can tell from her face, she did not want to have her pictures taken.  But  I love how the pictures turned out!  These are my favorite types of photos.  The ones where you capture the "real" everyday moments instead of the posed ones!
Supplies Used: Bazzill Cardstock, Basic Grey Patterned Paper, Tags & Letter Stickers (Fruitcake Collection), Basic Grey Chipboard Monograms, American Craft Brads, Fancy Pants Ribbon (Clair de Lune), Stampin' Up Ink (Chocolate Chip), Colorbox Ink (Brown), Zig Writer (Chocolate)
And this next layout is of me and my oldest son, Daniel.  The photo was taken over 8 years ago!  He was only 3!!  Time sure does fly!!  
Supplies Used:  Bazzill Cardstock, SEI Patterned Paper (Paisley & Petals Collection), American Craft Thickers (Jewelry Box), Zig Writer (Chocolate), Stampin' Up Ink (Chocolate Chip)
Last night, the kids decorated a Gingerbread House!  Well, the older ones that is!  However, when the twins woke up this morning, they enjoyed eating the candy off the Gingerbread House.  As you can see from the photo, some of our candy is already missing (notice the door)!  haha!  Those babies crack me up!!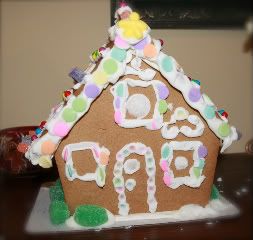 It's been a while since I posted one of my scripture cards so I would like to share with you one that I did a few weeks ago.  The word that week was "OBEY".

John 14:21
"Whoever has my commands and does them, he is the one who loves me.  He who loves me will be loved by my Father, and I too will love him and show myself to him."
Well, off to watch a Christmas movie!!  Hope everyone is having a wonderful week!!  God Bless!