It was a fun Valentine's around here!!  My Valentine's started a bit early.  I came home from Bianca's Valentine's Day class party yesterday and was surprised with these beautiful red roses from my wonderful husband.  He did good!  There were 2 dozen!!!  
And although he has been under the weather this week, he took me out to dinner last night!  Just the two of us!!  Today was spent just chillin' at home with the kids!
Here are some fun Valentine's photos I took of the twins yesterday.  They were being silly!  
Un besito!!
Big Hug!!
Not because they're mine...but aren't they adorable?!  hehe!
And here's a little scrappy project we did for Bianca's teacher.  I love the way it turned out!  We filled it with candy and chocolate!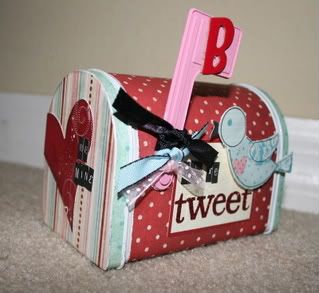 Supplies Used:
 Mailbox from Target "Dollar" Section, Fancy Pants "Splendid" Patterned Paper, Fancy Pants "Splendid" Die Cuts, May Arts Ribbon, Making Memories Tiny Alpha Stickers, Making Memories Glitter Alphabet Stickers, Acrylic Paint (Pink)